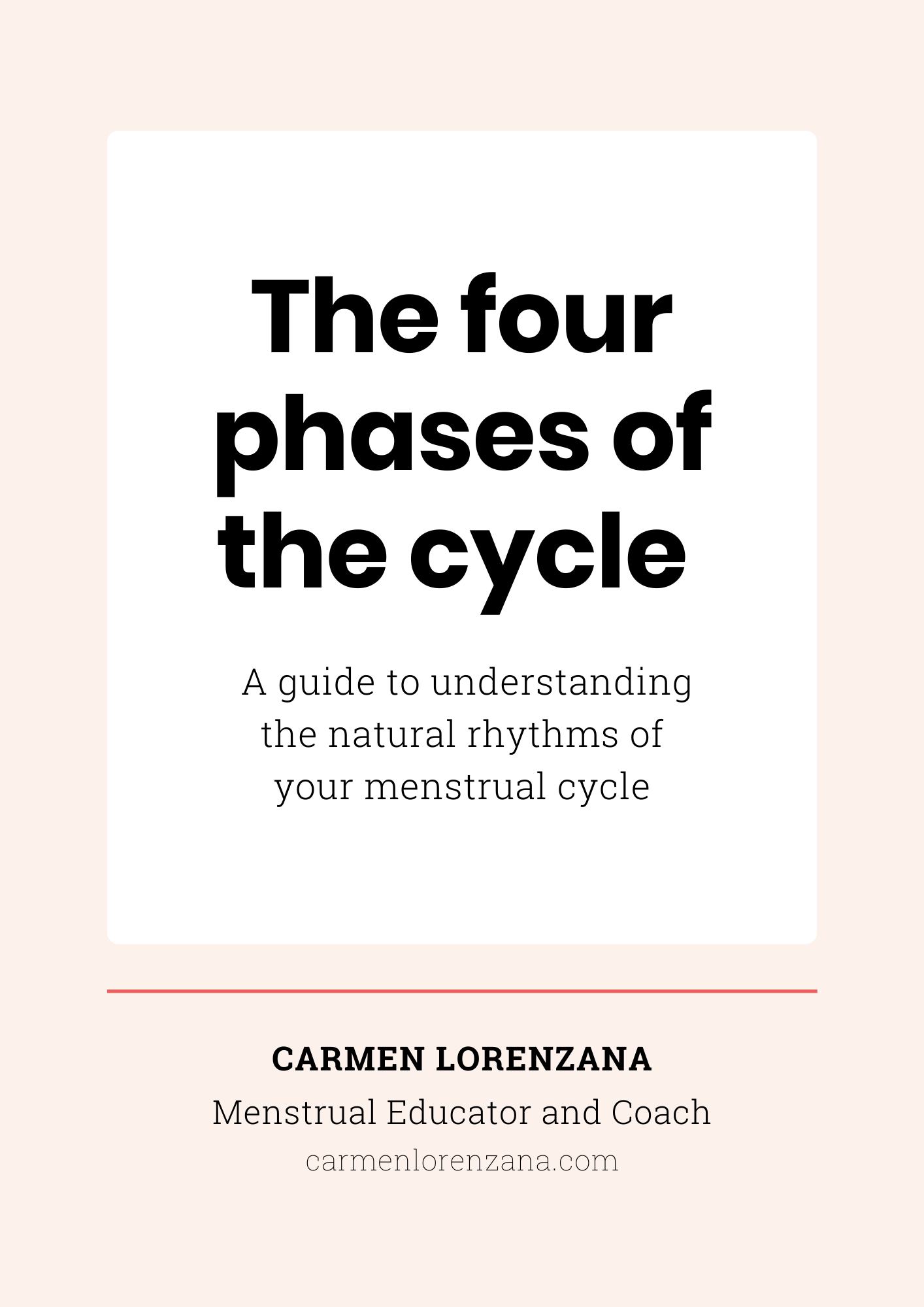 Download your free guide: The Four Phases of the Cycle 
🌱Learn more about each phase of your cycle, including the hormonal changes and the strengths & challenges you may experience.

🌱Discover the parallels between the four phases and the seasons of the year.

🌱Learn how tracking your cycle can help you unlock your superpowers in each phase, become more mindful of your vulnerable moments, and identify what's normal and not for you.
About me
Hi! I'm Carmen, a Menstrual Cycle Educator and Coach on a mission to normalize conversations about periods, cycles, and fertility.
My work is a combination of the science and the magic of the menstrual cycle.
As a certified FEMM Fertility Awareness Instructor, I'm here to help you understand the biology, physiology, and hormones involved in your cycle, so you can better care for your reproductive health and enhance your quality of life.
And as a Red School Menstruality Mentor, I'm also here to help you connect with the profound wisdom and intuition of your cyclical nature so that you can embrace your unique rhythms, find balance, and lead a meaningful life in sync with Nature.
Welcome to this space. It's a pleasure to have you here!
Words of love from my clients:
"I was having a horrible relationship with my period, I'd get anxious and irritated a few days before it would come. After attending Carmen's workshop, I learnt so much about how to deal with it and how not to be too hard on myself those days. Now I have a great relationship with it, and I live those days as a natural way of my body to work. Thank you Carmen! I so loved your energy and sweetness and I'm so happy I got to meet you in person".
"Carmen's coaching changed how I feel about my body and my menstrual cycle. Going deep in women's biology, nature, and feminine energy taught me how to listen to and understand my body and soul better in the different phases of the never-ending cycle of ours. Thanks to Carmen, I am perfectly happy with my imperfect body, and I now have the tools to face the challenges of everyday life." 
"The coaching with Carmen helped me in many ways. I learnt many things about my cycle and  the way you can observe and interpret it. The sessions were also moments to come closer to myself, to be gentle with myself and make plans for treating myself even better in the future —I finally learnt to embrace my cycle fully. I am very grateful for the process we did together and I would recommend every woman to do the same journey!"
"Carmen, I loved your energy during the Menstrual Cycle Awareness workshop! You are such a kind, patient and empathetic person & you were made for a job like this."
"My 6-month coaching journey with Carmen was transformational. During our sessions, she provided me with so many useful tools, mind opening concepts and healing clarity. I loved her clear communication, sincere compassion and willingness to help. I warmly recommend her services to any woman who is looking for their own personal next level and deeper connection. Carmen will surely guide you there!"
"I felt so empowered and connected to myself after participating in Carmen's workshop. I really enjoyed how she shared her wisdom while holding a safe space for us to ask questions and share our insights. I loved the balance between science and inner wisdom. I recommend Carmen's workshops to anyone who feels called; it was truly a gift".
"I was wowed by Carmen's knowledge and also really appreciated her style. I have thought about her workshop many times each day since then. I cannot believe how much I DIDN'T know about my period, she really opened my eyes!"
"The Chart Your Cycle program was educational and practical at the same time; it gave me the confidence to follow my fertility signs and avoid pregnancy in the most natural way I can imagine. I feel so much more connected to my body and I truly think that this information should be shared with everyone, especially if you feel that all you know about your cycle is that you bleed. Carmen as trainer was professional, giving a lot of space, letting this experience be your experience and delivering the best value for the investment".
"I got to know Carmen due to her activities online about menstrual awareness. I was curious at first to learn something new about my body, and I discovered a passionate and empathic professional. My learning journey with Carmen has been interesting and enriching. I'm more aware of my body, and I can read more about what is happening during my cycle. The journey is not finished yet, and I can't wait to continue exploring with Carmen's wise guidance".
"If you want to work with the most warm and compassionate coach, Carmen is the one to go to!" 
I'd love to hear from you!
If you:
would like to know more about your menstrual cycle,
have any questions regarding the benefits of menstrual coaching,
are interested in a workshop for your community or company,
look for a potential collaboration,
Feel free to send me a message :)