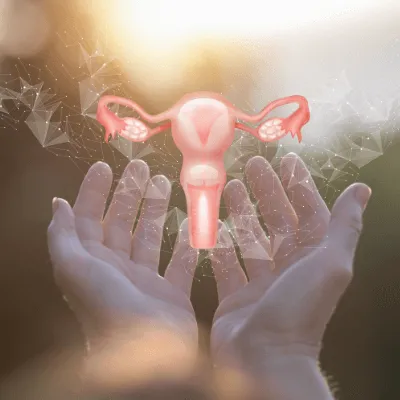 Charting your cycle is key to understanding your body and monitoring your hormonal health.
In this 4-month program, you'll learn to identify, chart and interpret fertility biomarkers in your cycle to:
Know what is and isn't normal in your cycle

Naturally avoid or achieve pregnancy

Get in tune with your body's natural rhythms
Learn the FEMM fertility awareness method.
FEMM is a Fertility Awareness method that combines cervical mucus observations and urinary test strips to measure the presence or absence of the Luteinizing Hormone. In addition, the Chart Your Cycle program includes a session on basal body temperature, which is an important biomarker to confirm ovulation in your cycle.
   The Chart Your Cycle program includes:
4 pre-recorded classes (1 class per month)

4 x 1:1 follow-up calls between classes (30 mins each)

Printable charts

Charting exercises

Guides, and extra resources

Email/WhatsApp support throughout the whole program

3-month subscription to the app

Read Your Body
Not included:
ovulation / LH test strips (~15-20€)

body basal temperature thermometer (~10-30€)
Meet your guide
Hi! I'm Carmen, a Menstrual Educator and Fertility Awareness Instructor trained in the FEMM protocol.
Six years ago, looking for a holistic way to treat PCOS, I discovered the world of Menstrual Cycle Awareness. I finally learned that the cycle is an incredible feedback tool that gives us important clues about our physical, mental, and emotional health. This was a life-changing discovery, and I immediately felt called to become a Fertility Awareness Instructor and support others on this path.
I'm here to help you deeply understand your cycle, connect with your body and make empowered decisions about your reproductive health.
My approach is humane and secular, and I offer programs in Spanish and English.
I would love to support you in this process!
"This program was educational and practical at the same time; it gave me the confidence to follow my fertility signs and avoid pregnancy in the most natural way I can imagine. I feel so much more connected to my body and I truly think that this information should be shared with everyone, especially if you feel that all you know about your cycle is that you bleed. Carmen as trainer was professional, giving a lot of space, letting this experience be your experience and delivering the best value for the investment".
"I got to know Carmen due to her activities online about menstrual awareness. I was curious at first to learn something new about my body, and I discovered a passionate and empathic professional. My learning journey with Carmen has been interesting and enriching. I'm more aware of my body, and I can read more about what is happening during my cycle. The journey is not finished yet, and I can't wait to continue exploring with Carmen's wise guidance".
"Carmen's coaching changed how I feel about my body and my menstrual cycle. Going deep in women's biology, nature, and feminine energy taught me how to listen to and understand my body and soul better in the different phases of the never-ending cycle of ours. Thanks to Carmen, I am perfectly happy with my imperfect body, and I now have the tools to face the challenges of everyday life." 
"The coaching with Carmen helped me in many ways. I learnt many things about my cycle and  the way you can observe and interpret it. The sessions were also moments to come closer to myself, to be gentle with myself and make plans for treating myself even better in the future —I finally learnt to embrace my cycle fully. I am very grateful for the process we did together and I would recommend every woman to do the same journey!"
"My 6-month coaching journey with Carmen was transformational. During our sessions, she provided me with so many useful tools, mind opening concepts and healing clarity. I loved her clear communication, sincere compassion and willingness to help. I warmly recommend her services to any woman who is looking for their own personal next level and deeper connection. Carmen will surely guide you there!"
Would you like to know more about the Chart Your Cycle program?
Book a free discovery call here, or send me a message with all your questions: