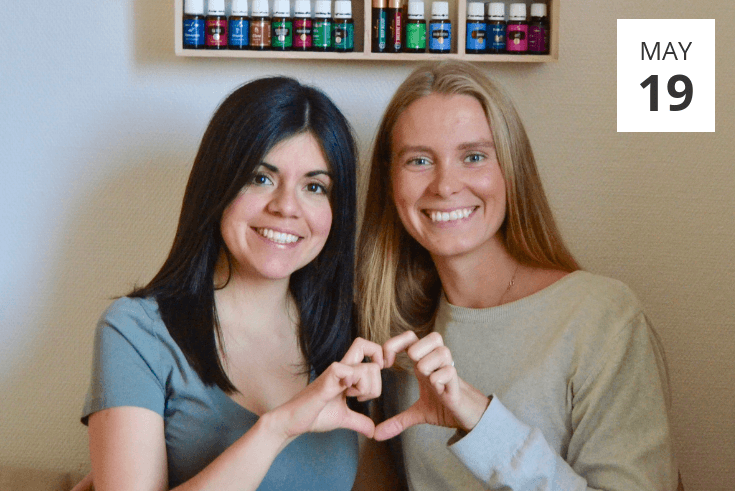 Menstrual Well-being 3 part workshop series
19 May, 2019 @ 1:00 pm

-

3:30 pm

|

105€
⏰ May 19, May 25 and Jun 2
? Purna Yoga Helsinki: Fredrikinkatu 67 E 42 see map
Experiencing Menstrual Well-being may sound like a dream; we get that! Sometimes it's challenging to feel right about your period in a world where we rather learn to be ashamed of our body and its natural processes. And yes, it's especially hard if each menstruation brings pain and discomfort.
But it is possible to have a more positive menstrual experience, naturally.
While it's true that there are no magic nor instant remedies, there's A LOT you can do to gradually improve the relationship with your cycle and ultimately with your body.
In this workshop series, Carmen Lorenzana and Eva Kiviluoma invite you to reclaim your menstrual wellness by taking a natural and proactive approach.
We will meet up 3 times with different topics & natural toolboxes:
1. Love Your Cycle workshop – Understanding your cycle
May 19th, 13-15.30 hrs with Carmen
The menstrual cycle has four phases, and you're basically a different woman in each one of them. Depending on the phase you're at you change physically, emotionally, and mentally. We tend to see the menstrual cycle more like a hassle, but there's a powerful way to flow with the natural rhythms of your body. There's a way to help your hormones work for and not against you.
Read more here
2. Essential Oils to Love your Cycle – Supporting your cycle with essential oils
May 25th, 18:30-20:30 hrs with Carmen & Eva
Essential oils are much more than just lovely scents. These powerful plant extracts are very useful for relaxation, supporting your lifestyle, and having a better menstrual cycle experience.
Read more here
3. Purna Yoga for the Menstrual Cycle – How certain postures support you during period
June 2nd, 13-15 hrs with Eva
Yoga can be a great tool to have when it comes to our menstrual cycle. Through simple postures and series you can alleviate menstrual pain, stimulate your menstruation to begin as well as calm down emotional turbulence during your period. In this workshop you will learn the Purna Yoga menstruation series and simple meditation tools to use throughout your cycle. You will receive a hand-out from the series to take home with you. ''Yoga is designed to serve your life.
Read more here
---

– Venue: Purna Yoga Helsinki: Fredrikinkatu 67 E 42, 00100 Helsinki
– Language: English
– Tea, snacks and handouts for each workshop will be provided.
Price:
Early bird: 95€ until May 8th.
Normal price: 105€
Invite your friends and get 5€ off from your payment (5€ discount per friend, up to three friends – please email us the name of your friend in advance to: clorenzan@gmail.com)
It's also possible to book the workshops individually, for 35€ each.
In order to keep a cozy and safe atmosphere, places are limited.
REGISTER YOUR PARTICIPATION HERE: http://www.evakiviluoma.com/workshops/2019/3/22/love-your-cycle-3-part-series
Cancellation Policy: 50% refund until may 8th, after that no refund.
If you have questions or comments, don't hesitate to send us a message.
We look forward to meeting you! ♥
With Love,
Carmen & Eva
---
About Eva Kiviluoma:
Eva Kiviluoma is a 500-hr Purna Yoga Teacher from Helsinki. Her passion is to empower women and men to take responsibility for their health and wellbeing.
Eva was trained personally by Tove Palmgren (2.000RYT; one the most experienced yoga teachers in Helsinki) and Yoga Master Aadil Palkhivala, who is also a co-founder of Purna Yoga and known as the "teacher of teachers."
In her classes and lectures, Eva creates an atmosphere that welcomes you to see yourself sincerely. She offers practical tools for a more balanced and inspired life.
Eva also works with therapeutic grade essential oils from Young Living. She recognizes the importance of reducing synthetic chemicals in daily life with essential oils and offers workshops
and classes on the topic.
You can read more about her here:
www.evakiviluoma.com
About Carmen Lorenzana:
Carmen is a menstrual cycle educator and coach, based in Helsinki. For the past three years, she has studied all things related to the Menstrual Cycle and female hormones, with a lot of passion and curiosity. She is certified in Menstruality by Alexandra Pope and Sjanie Hugo Wurlitzer, founders of Red School, and in coaching by the World Coaching Organization.
She leads an initiative called "Love Your Cycle" created with the aim of making menstrual cycle education available for everyone and helping other women to have a positive menstrual experience.
As part of the activities of Love Your Cycle, she organizes events such as talks and workshops, and gives one-to-one menstrual coaching sessions, both in English and Spanish.
She's also the founder of "Bajo la Carpa Roja "(https://bajolacarparoja.com/), a project with the purpose of spreading menstrual cycle education in Latin America.