I love creating spaces to have meaningful conversations about periods and cycles.
In-person events are a beautiful chance to be in community, deepen the relationship with our cycle, and discover more loving and caring ways to connect with it.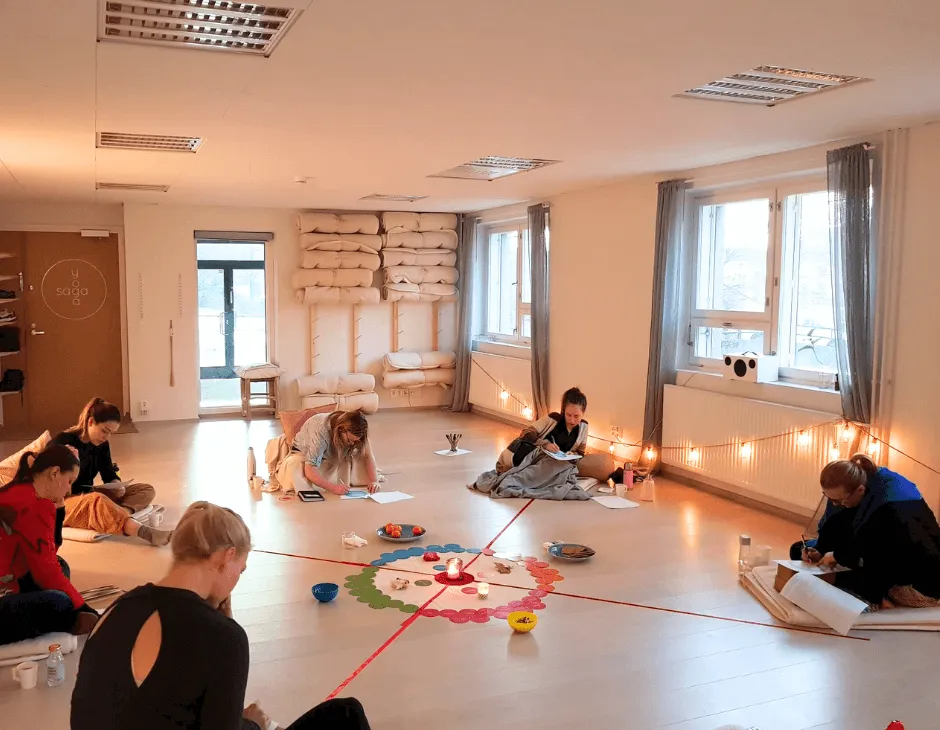 Menstrual Cycle Awareness
Workshop
In this workshop you'll learn how your hormones impact different aspects of your life and gain practical tools to strengthen your connection with your cycle and yourself.
⏰ Sunday, April 23, 2023
🗓️ From 10-13h
📍 Mielenlento
What others say about my workshops & courses:
"I was wowed by Carmen's knowledge and also really appreciated her style. I have thought about her workshop many times each day since then. I cannot believe how much I DIDN'T know about my period, she really opened my eyes!"
"I was really excited when I found Carmen's workshop on Menstrual Cycles. She created a space and atmosphere that was welcoming and warm.  I felt that I was seen and accepted as I am, I gained new knowledge, and I enjoyed hearing other women's stories. After the workshop I've started to track my cycle, trying to find a suitable routine for myself. I'm really looking forward to going to the upcoming workshops. Can't wait!"
"Before attending the workshop I didn't have a clear view of the different phases of the cycle. Now I have the knowledge of ech phase —I know better what to expect, and what are the strengths and challenges during my cycle. I would strongly recommend the workshop for everyone interested about what is going on within their body in the sense of hormones and menstruation. Carmen is very gentle in her work and provides a safe and comfortable space".
"I felt so empowered and connected to myself after participating in Carmen´s Love your Cycle -workshop. I really enjoyed how Carmen shared her wisdom while holding a safe space for us to ask questions and share our insights. I loved the balance between science and inner wisdom. I would recommend Carmen´s workshops to anyone who feels called, it was truly a gift. Thank you so much <3"
"Carmen's workshop provided me with tools that I continue to benefit from for my physical & mental well-being. I can highly recommend Carmen's workshop as she is an expert facilitator with lots warmth & knowledge. It's for sure going to be a beautiful experience with long lasting benefits for the participants"
Do you have a special requirement for your company, students or community?
Photo credits: Mari Lehtisalo – Suomen Partiolaiset
I'll be happy to create a workshop for you!
Some of my favorite topics are:
Sustainable periods and cycles
Menstrual Awareness is a broad topic that can be approached from different perspectives, so I'd be glad to craft a proposal for you, according to your needs.
Send me a message below, and let's make it happen! 
New to Menstrual Cycle Awareness and not sure where to start?
Download my free guide with 3 simple steps to get to know your cycle.
You're signing up to receive emails from Carmen Lorenzana