Learn how to flow with your cycle's natural rhythms instead of struggling with them!
After this workshop you'll leave with a better understanding of how your hormones impact different aspects of your life and practical tools to strengthen your connection with your cycle and yourself
The menstrual cycle is more than bleeding once a month, PMS, or making babies. Did you know that it has four hormonal phases and that you change physically, mentally, and emotionally in each one of them?
Many of us grow up ignoring how our bodies actually work and understand so little about the cycle that we struggle to have a good (or even neutral) relationship with it. 
But what if I told you there is a powerful way to flow with the natural rhythm of your cycle? What if there was a way to help your hormones work for and not against you?
Incredible shifts happen when you can predict, work with and embrace the changes within yourself each month.
How would your life be different if you gave your menstrual cycle a chance?
"We take better care of what we know."
-Tami Lynn Kent.
In this workshop you will:
Learn about the four phases of the menstrual cycle and the changes that you experience physically, emotionally, and mentally in each phase.

Discover your unique strengths, vulnerabilities, and needs in each phase of the cycle and how to use them to live more sustainably.

Learn about cycle tracking: a powerful practice to strengthen the connection with your cycle and identify if something's off with your hormonal health.


Be gently guided through some exercises to start integrating the day's teachings into your own menstrual experience.

Have the chance to ask questions, share your experience (only as much as you want), and connect with others.

Spend a cozy morning relaxing, being held, drinking tea, and recharging together.
This workshop is open to women and menstruators
You're welcome to attend if you have an irregular cycle, if you don't have a period at the moment/anymore, and even if you're on hormonal birth control (read more in the FAQ's below). All menstrual experiences are valid and welcome
If you have questions about your particular situation, send me a message.
Workshop details: 
❣️When and where
Sunday, September 3, 2023, from 10-13h
Mielenlento (Otavantie 5, 00200 Helsinki see map). A two-minute walk from the Lauttasaari metro.
❣️Facilitator
Carmen Lorenzana, Menstrual Educator and certified Fertility Awareness Teacher by FEMM.
❣️Payment and registration
Price 55€
(VAT included)
How people have experienced the Menstrual Cycle Awareness Workshop
"I was having a horrible relationship with my period, I'd get anxious and irritated a few days before it would come. After attending Carmen's workshop, I learnt so much about how to deal with it and how not to be too hard on myself those days of the month. Now I have a great relationship with my period, and I live those days as a natural way of my body to work. Thank you Carmen! I so loved your energy and sweetness and I'm so happy I got to meet you in person".
"I was really excited when I found Carmen's workshop on Menstrual Cycles. She created a space and atmosphere that was welcoming and warm. I felt seen and accepted as I am, gained new knowledge, and enjoyed hearing others' stories. After the workshop, I started to track my cycle, trying to find a suitable routine for myself. I'm looking forward to going to upcoming workshops!"
"I felt so empowered and connected to myself after participating in Carmen's workshop. I really enjoyed how she shared her wisdom while holding a safe space for us to ask questions and share our insights. I loved the balance between science and inner wisdom. I recommend Carmen's workshops to anyone who feels called; it was truly a gift. Thank you so much."
"I was wowed by Carmen's knowledge and also really appreciated her style, that she also participated fully in the open conversation and then when the moment felt just right, she went into her more corseted content. This was great, because it allowed us to talk about our cycle with our own vocabulary first, and then afterwards to learn from her. I have thought about Carmen's workshop many times since then;  I cannot believe how much I DIDN'T know about my period, she really opened my eyes!"
"Carmen's Love Your Cycle workshop provided me with tools that I continue to benefit from for my physical & mental well-being 💗 I can highly recommend Carmen's workshop as she is an expert facilitator with lots warmth & knowledge. It's for sure going to be beautiful experience with long lasting benefits for the participants"
About Carmen Lorenzana
I'm a Menstruality Mentor by Red School, and certified Fertility Awareness Teacher by FEMM.
Seven years ago, looking for a treatment for Polycystic Ovarian Syndrome (PCOS) other than the birth-control pill, I discovered the world of Menstrual Cycle Awareness. I understood for the first time that my cycle is more than bleeding once a month and making babies; my reproductive hormones impact many aspects of my being and make me change physically, mentally, and emotionally in a cyclical way. This was a profound, life-changing discovery, and I immediately felt called to learn more and share it with others. That's why I formally trained to become a Menstrual Educator.
Through my work, I help women & people with periods have a better menstrual experience and make self-determined decisions about their reproductive health. I do this through workshops, online courses, 1:1 coaching sessions, and educational content.
Read more about me here.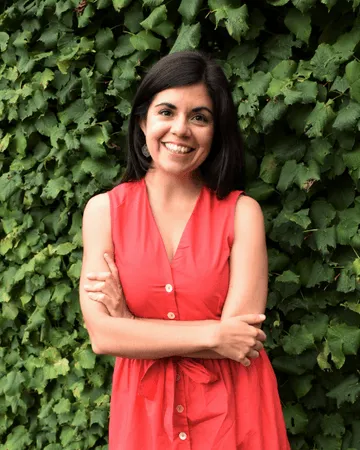 Welcome to the Menstrual Cycle Awareness workshop, if it resonates with you!
If you have questions or comments, don't hesitate to message me :)